Introduction:
Incoterms are nothing but some International Commercial terms published by International Chamber of Commerce to clearly communicate the associated risks,costs,tasks etc. evolved with international procurement and logistics. Which are widely accepted by legal authorities, governments and involved parties with the commercial  transactions .
Incoterms usually help to reduce uncertainties and for that reason are incorporated in Letter of Credit, Sales Contract etc. in the whole world. Incoterms are last amended/published by ICC on January 01, 2013.Some essential incoterms are highlighted below:
Ex Works (Named place)
The incoterms EXW can be defined as an agreement between a buyer and a seller that after production completed and left warehouse of the seller, seller is not responsible for cost and liability for the product.
Incoterms FOB and EXW can be used interchangeably while consider terms and agreement between buyer and seller. Buyer responsibilities include loading, transport, import and export, unloading and insurance of the goods. In case among buyer and seller, one may get advantage of concentrating on production, another may get advantage on transportation.
Seller is not responsible for loading the goods unless specified otherwise and buyer is responsible for doing  insurance for EXW shipments under the buyer's Ocean Cargo Policy. The insurance Policy covers warehouse to warehouse. When purchasing goods under EXW buyer should seek an insurer that will give coverage during this situation.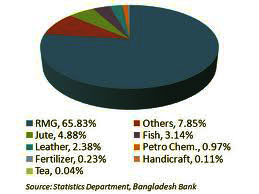 Bangladesh Export Projection FY10
FCA: Free Carrier (Named place)
While using the incoterm FCA , the Seller agrees to give delivery of the goods into the custody f the forwarder, freight forwarder etc. who are usually nominated by Buyer.The Sales Contract or Letter of Credit must state clearly the place or to which people the cargo would be dlivered.
After hand over the cargo to that place or people buyer is responsible for loss or damage of the goods. Under the buyer's Ocean Cargo Insurance Policy, insurance would cover as the goods are delivered to the carrier. It is in the buyer's interest to review the insurer's country exposure.
FOB : Free on Board(Named port of shipment)
The incoterm FOB is from the point of delivery of goods and transfer of risk, it starts with the goods pass the ship's rail at the named port of shipment. Responsibility of goods transferred
to the Buyer from the Seller when goods cross the rail of the ship.
Except  CIP and CIF , incoterms do not have any obligation on the Seller and Buyer to provide insurance. But at some point, either Buyer or Seller bears the responsibility for loss to the goods during transit.
Conclusion: 
In context of Bangladesh Exporters, Bangladesh Bank has ordered the enlisted banks and foreign currency handling institutions to use Incoterm FCA instead of FOB while they had over cargo to buyer nominated forwarder/carrier. Bangladesh Garments Manufacturers and Exporters Association have advised its members to comply with the Bangladesh Bank advice by a circular dated January 01, 2013. They hope that it will help Exporters/Sellers in Bangladesh Garment industries to get coverage of Insurance Policy of Buyers. And they do not pay additional charges, such as Terminal Handling Charges.
Bengali Version

:
If required, please see the Bengali Version article from the same author from the below  link :