Abstract
Supply Chain Management (SCM) involves designing, planning, executing, controlling, and monitoring supply chain activities to increase value, build infrastructure, leverage logistical needs, supply and demand, and measure performance globally. SCM integrates with logistics, procurement, operations management, and information technology. Bonded warehouses are secure areas where dutiable goods are stored without duty payment, managed by the state or private companies. Special Economic Zones (SEZs) are bonded logistical parks with trade arrangements over specific geographic areas, under customs supervision, and integral to the global supply chain.
Keyword: bonded warehouse.
Introduction
As Customers are at the end of the network and need certain products or services, Supply Chain Management is the management of networks and channels involved in serving the customer. SCM covers the movement and storage of raw materials, WIP, and finished goods from the point of start to the point of use of the finished goods or services. Export is under the supply chain network. An export processing zone is one of many export promotion tools including bonded warehouses, and other schemes.
An integrated approach
To serve the customer,  Supply  Chain  Management needs to design,  plan,  execute,  control and monitor  Supply Chain activities. Their objective is to create and increase the value of the Supply  Chain,   build the necessary infrastructure, leverage logistical needs,  supply and demand,  and measure performance even at the global level. SCM tends to be an integrated approach along with logistics, procurement, operations management, and information technology.
A Bonded warehouse
This is a building or secured area in which dutiable goods are usually stored manipulated or manufactured without payment of duty. These buildings or areas are managed by the state or otherwise controlled by private companies. All developed countries have this kind of bonded warehouse.
Bonded Logistical Parks
EPZs are bonded logistical parks that have trade arrangements similar to that of bonded warehouses but over a specific geographic area. Sometimes, they have international port capabilities. Goods may be manipulated or undergo manufacturing operations after being stored without paying duty.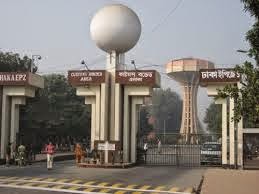 Customs supervision
There is a bond between an importer and the warehouse provider or EPZ authority/government. The bond is canceled when the goods are exported or are supposed to be exported per the law of the government. Or Supplied to the airport or sea shipment process. Or destroyed per customs approval or domestically used paying customs duties. In the EPZ type of bonded warehouses are under customs supervision of the respective country and are integral parts of the global supply chain.
There are several kinds of Special Economic Zones in addition to EPZs.These are called EPZ, FTZ, SEZ, etc. with some differentiation of size and functions: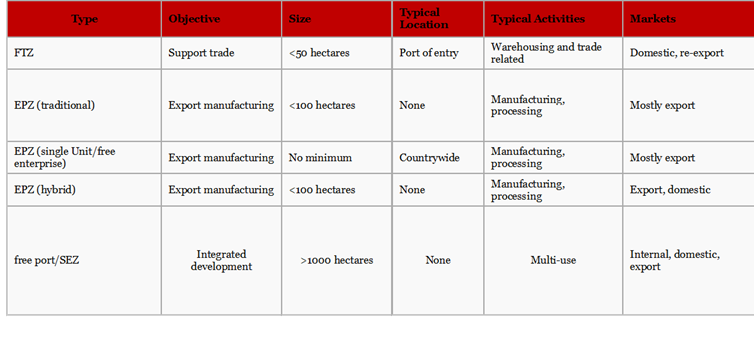 All these SEZs are contributing to the international Supply Chain and the national economy. Previously, the third-world countries were mostly import-based. The superposition policy of the bonded zone and export processing zone is implemented in the bonded logistics park. Once domestic goods enter the park, they are regarded as exports, and the exporter shall handle customs formalities and can get tax rebates immediately. Goods from the park sold domestically shall be regarded as imports and the importer shall handle customs formalities accordingly. Goods are taxed predicated on its on-spot state. [1]
References:
1.http://www.iwclogistics.com/en/bonded-warehousing