Abstract
"
Freight

 

Collect

" 

&

 "

Freight

 

Prepaid

" 

are

 

two

 

shipping

terms

, 

which

 

show

 

whether

a consignee 

has

the

 

primary

 

liability

 

to

 

the

 

carrier

 

for

 

the 

shipping

charges

 

in

 

a

 

procurement

 

process

. 

EXW

, 

FCA

, 

FOB

, 

FAS,

 

etc

 

Incoterm

used

for

 "

Freight

 

Collect

" 

shipment

. 

Now

, 

we

 

would

 

like

 

to

discuss

 

Incoterm

 

which

 

can

 

be

 

used

 

for

 

different

 

"

Freight

 

Prepaid

" 

shipments

 

based

 

on

 

Incoterm

 of Sept

2019

 

published

 

by 

ICC, also called 2020 amendment of incoterm.
Keywords: International Procurement, Freight Prepaid, Freight collect, Incoterm, ICC, Amendment 2020.
Article
Introduction
Transportation is one of the Drivers of the Supply Chain. The term Freight denotes transportation charges. The International Commercial Terms or INCOTERMS refers to whether the shipper/consignee is responsible to pay the freight or transportation charges.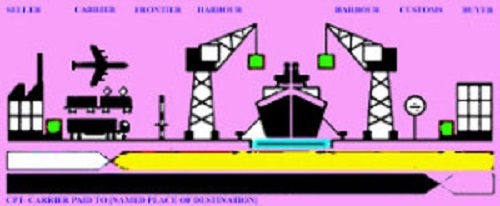 The Incoterm
Following things are the most common things to consider in freight terms:
Costs – Who pays the freight costs for each leg of transit?
Risk – Who covers insurance and/or is responsible if the goods are damaged in transit?
Taxes & Fees – For international shipments, who covers any customs duty or taxes?
Title – Who owns or has title to the goods? The title is not necessarily indicated by the shipping terms and can be noted separately on the commercial document.
Shipping terms
"Freight Collect" & "Freight Prepaid" are two shipping terms, which show whether a consignee has the primary liability to the carrier for the shipping charges in a procurement process. If it is a "Freight Prepaid" shipment, then the carrier is supposed to invoice to a shipper for the transportation charges. Conversely, if it is a "Freight Collect" shipment, the carrier is supposed to invoice the consignee. The Incoterms CFR, CIF, CPT, CIP, DPU, DAP, DDP require repayment of the cost of the main carriage or shipping cost by seller/shipper. EXW, FCA, FOB, FAS, etc Incoterms are used for "Freight Collect" shipment. Now, we would like to discuss incoterms that can run for different types of "Freight Prepaid" shipments based on Incoterms 2010 published by ICC.
"Main Carriage paid by Supplier" group of incoterm
CFR: Cost and Freight (Named Port of destination)
Sellers arrange transport and pay all the freight charges, so that the goods may bring to a named destination port. Point of delivery of goods and transfer of risk is when the respective goods pass the ship's rail at the destination port. Previously, it had been called CNF or C&F. This incoterm is used for sea-bound shipments.
 CIF: Cost, Insurance and Freight (Named Port of Destination)
This incoterm is exactly the same as CFR, except the seller, needs to pay insurance. It's only applicable for Maritime and inland waterway shipments.
CPT: Carriage Paid to (Named place of destination)
Many shipments (general/multimodal/containerization) are included for CPT. Not only sea shipments. Point of transfer of risk happens upon delivery of goods at the country of export.
CIP: Carriage and Insurance paid to (Named place of destination)
This incoterm is exactly the same as CPT, except the seller, need to pay insurance.
According to Sept 2019 amendment if not otherwise mentioned in the agreement the insurance clause should be Institute cargo clauses (A) instead of Institute cargo clauses(C). Clause (A) is a higher insurance coverage than clause (C).
"Arrival"  group of incoterm
DAT: Delivered at Terminal (named terminal at Port or Place of Destination)
Delivery takes place once the goods are unloaded at the terminal. Except for import clearance cost carriage to the terminal cost all risk is to be paid by the seller. Previously They used DEQ for a similar purpose.
The September 2019 amendment
According to September 2019 amendment, DAT is renamed as DPU (Delivered at place unloaded). It emphasizes that delivery can be anywhere, not only in the terminal.
DAP: Delivered at Place (Named Place of Destination)
Delivery takes place once the seller sends the cargo to the Named Place and pays the freight for it. Seller assumes risks until a buyer is ready to unload it at the terminal it should use DAP in place of the previous incoterm DAF, DES, DDU.
DDP: Delivery duty paid (Named place of destination)
It is a seller's duty to deliver the goods to the named place in the buyer's country. Including duty and taxes, all costs need to be borne by the seller. So, the term is giving maximum responsibility to the seller and minimum responsibility to the buyer. They deliver the goods at the named place, which may be a buyer's premises, but not unloaded. Above mentioned incoterm is applied for different transportation. They use CFR and CIF for Maritime and inland waterways. CPT, CIP, DPU, DAP, DDP are used for air freight, road freight, Railway freight, Maritime, and Inland waterway freight.
A Usage of Incoterm by Banks in Bangladesh:
Bangladesh Bank (Central Bank of Bangladesh) has given a rule binding to its entire Banks that the EXP Form shall be negotiated/accepted only when these are drawn on CFR/CIF/CPT/CIP basis and not on FOB/FCA/FAS/EXW/DAS basis.
Conclusion
In the conclusion stage, we can say one thing is that suppliers and buyers can also invent or modify incoterm for their particular situation. But ICC incoterm is widely used by the world business community for its familiarity and wide acceptance. We need to follow incoterm 2020 (Sept 2019) where it is updated. But it has made no major update in this amendment.
References:
1.Vishny, Paul H. (1981). Guide to international commerce law. St. Paul, MN: West Group. ISBN 0070675139."ICC Guide to Incoterms® 2010". ICC. Retrieved March 14, 2014.
2.https://www.incotermsexplained.com/incoterms-2020-coming-soon/
3.https://resourcemanagement.wustl.edu/purchasing-services/freight-terms/